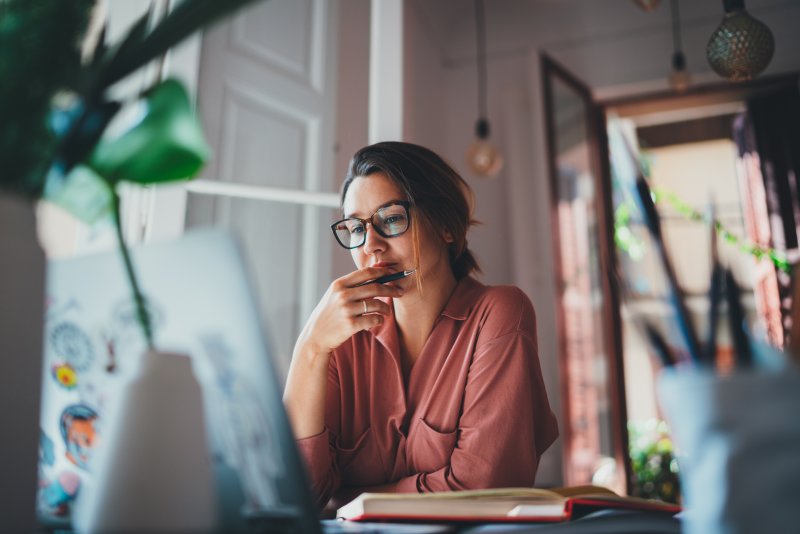 Pre-pandemic, meetings were typically conducted in-person, which allowed you to participate without thinking twice about your smile. However, with the rise in Zoom calls and virtual conferences, people are becoming more and more aware of their appearance. After all, thanks to the camera on your device, you can now see firsthand what your colleagues and clients see. Read on to learn more about why cosmetic dentistry procedures, like Invisalign in Manchester, have surged and how your dentist can help you achieve your smile goals!
Why Online Meetings Are Leading to Smile Insecurities
Since platforms like Zoom show users what their fellow participants see, it's not surprising that people are more image-conscious than ever before. However, since most people's morning routines include at least a quick glance in the mirror, you may be wondering how this is any different. In short, there are some aesthetic issues that only surface when you see yourself talk or laugh, like metal fillings that have turned black or a now obvious chipped tooth. Seeing your smile from a different angle can give you a new perspective that causes you to reevaluate it.
5 Cosmetic Dentistry Treatments That Can Improve Your Smile
Thanks to advancements in dentistry, the latest technology, and state-of-the-art techniques, patients today can perfect their smile with an array of cosmetic treatments. Here are a few of the most popular services:
Teeth whitening procedures to lift stubborn stains and unpleasant discoloration.
Invisalign to straighten crooked, gapped, or crowded teeth.
Cosmetic bonding to fix minor imperfections, like small chips or cracks.
Metal-free restorations to seamlessly fix decayed or damaged teeth.
Porcelain veneers to correct stains, minor misalignment, and other imperfections.
How Your Dentist Can Help
Since each smile is unique, it can be difficult knowing which treatment option (or combination of options) will help you achieve your smile goals. Fortunately, that's where your dentist comes in! Not only can they conduct an initial exam to determine which procedures you are a candidate for, but they can also answer any questions you have so you can make an informed decision. Plus, they can provide recommendations based on their extensive experience and clinical expertise so you can move forward with confidence!
Whether video calls have brought new cosmetic concerns to the surface or simply reminded you of insecurities you've had all along, your dentist can help you achieve a beautiful, healthy smile. So, don't hesitate to give them a call and take one step closer to rebuilding your confidence!
About the Author
Since completing dental school at the Boston University School of Dental Medicine, Dr. Mohammad Golparvar has spent the last nearly 20 years helping patients achieve their smile goals. Whether you are interested in straightening your teeth, brightening your smile, or anything in between, he will use the latest technology, state-of-the-art tools, and his extensive clinical experience to restore your confidence. So, if you are looking for a dentist in Manchester to perfect your smile, visit his website or give him a call at 603-669-4252.