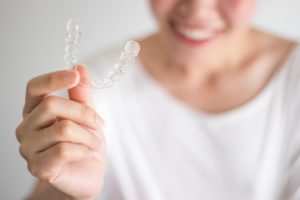 Invisalign is known for its incredible ability to straighten teeth in the most discreet way possible. For many, this benefit alone is enough to commit to the treatment. Of course, skipping out on unsightly metal braces is significant! However, your dentist also wants patients to be aware of Invisalign's not so obvious advantages. Read on to learn about some of the more surprising reasons to choose Invisalign over traditional braces!
Say Goodbye to Annoying Brackets and Wires
Before Invisalign, traditional braces were the only way to achieve straight teeth. This involves bonding brackets to each tooth, which holds in place wires that are adjusted to align the smile. Adjusting braces is often uncomfortable, and the brackets can cut the inside of your mouth. Thankfully, Invisalign is designed with smooth plastic, which makes wearing them incredibly comfortable and seamless.
Complete Confidence Throughout the Process
One benefit that comes with the discreet appearance of Invisalign is boosted self-esteem. You'll feel empowered to flash your grin in any social or professional setting with Invisalign because only you will know that you're wearing orthodontics. No more hiding your smile for photos or when speaking due to metal in your mouth.
Enjoy Easier Cleaning
Brushing and flossing with traditional braces can be a real chore, often resulting in the use of interdental brushes, pre-strung floss picks, and more to be able to clean away daily food debris and plaque. One of the most significant benefits of Invisalign is that the aligners are completely removeable. This makes it easy to brush, floss, and maintain your smile. Just be sure to use a soft-bristled toothbrush and room temperature water when cleaning your aligners to avoid damaging them.
Eat All Your Favorite Foods
If you know anyone who had braces, you'd know that they had to cut out some of their favorite foods like popcorn, trail mix, sticky candy, and more to avoid damaging their orthodontics. Invisalign allows you to remove your aligners any time you want to eat a snack or a meal. Enjoy all the tough, chewy, or sticky foods you want, just be sure to clean your teeth before putting your aligners back in.
Are you ready to take advantage of these amazing benefits? Contact your dentist in Manchester to get started with Invisalign.
Meet the Dentist
Dr. Mohammad Golparvar has nearly 2 decades of dental experience. He earned his Certificate of Advanced Graduate Study with a specialization in dental implants after receiving his dental doctorate from the Boston University School of Dental Medicine (BUSDM). He takes pride in giving his patients a way to achieve their dream smile without metal braces. To schedule an appointment, he can be reached through his website or by phone at (603) 669-4252.