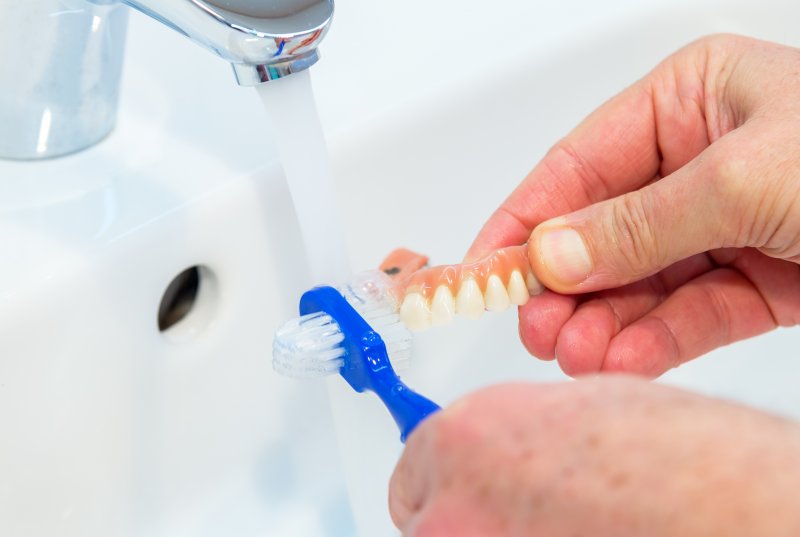 Do you wear dentures in New Hampshire? Are you looking for ways to extend the lifespan of your new teeth? Want to make sure your prosthetic looks natural and is free of harmful bacteria? When it comes to investing your time and money into a solution that is designed to replace your missing teeth, you want to do all you can to ensure its longevity, right? Knowing how to take proper care of your smile takes time and effort, but the result is a longer-lasting smile that boosts your confidence and allows for improved functionality. Read on to hear from a dentist who shares what you can do to maintain your dentures and enjoy a healthier, happier smile.
Cleaning Your Dentures
Keeping your dentures clean is crucial. Fortunately, your dentist in New Hampshire can recommend products and dental instruments that will help you keep your prosthetic free of bacteria, food particles, and dried saliva. A few quick tips to remember include:
After meals, make sure to remove and rinse your dentures.
Be sure to brush them at least once a day (if not more often) with a denture cleaner.
If you don't have denture cleaner, you can use liquid hand soap.
Soak your dentures overnight to allow for a thorough cleaning and to give your jawbone and gum tissue a chance to breathe.
Never use hot water to clean your dentures, as this can warp the materials.
Storing Your Dentures
Just as important as knowing how to clean your dentures is making sure you also know how to store them properly. You've already invested your time and money into your current smile. Why wouldn't you make sure your dentures are carefully handled and stored to avoid potential damage? It's important to remember that when cleaning your teeth, you place a towel in the basin of the sink as a protective measure in case you accidentally drop your top or bottom denture. You will also want to be sure that you never wrap them up in a paper towel or napkin, as you could accidentally throw them away, and avoid keeping them around children and pets.
Products to Avoid While Wearing Dentures
Your dentist in New Hampshire won't only discuss what you should do to care for your dentures. They'll also share the various products you'll want to avoid if you'd prefer to keep your new smile free of damage. Some of these include:
Not using bleach to clean your prosthetic, as it can weaken them and cause any metal to tarnish over time.
Never using a toothbrush with stiff bristles because it can scratch the denture. The same can be said for harsh toothpaste, as it is highly abrasive.
Avoiding whitening toothpaste simply because it will do nothing to brighten the shade of your dentures.
Keeping up with your regularly scheduled dental checkup and cleanings are also necessary if you want your dentures to look and feel their best. These visits will allow your dentist to examine your prosthetics to make sure there are no signs of damage and that your natural teeth and gums are in optimal condition.
About the Author
Dr. Mohammad Golparvar is a trusted dentist in New Hampshire who provides exceptional dental care to residents living in and around Manchester. When faced with multiple or an entire arch of missing teeth, he and his team at Webster Dental Associates provide patients with dentures made of high-quality materials that are designed to offer durability, full functionality, and a beautiful, natural appearance. Dr. Golparvar also offers helpful tips and tricks individuals can use to better maintain their prosthetics and enjoy healthier smiles for longer. If you are a denture-wearer and need help understanding how to care for your new teeth, contact us at (603) 669-4252.