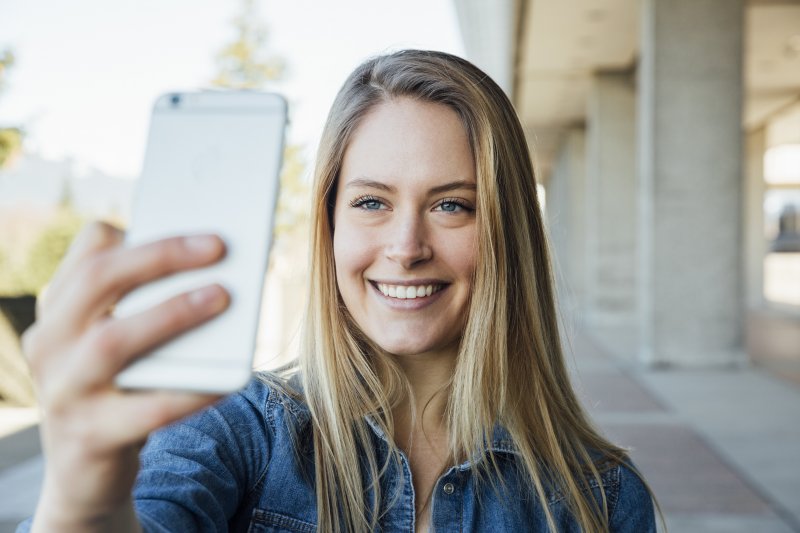 In the last two decades, more than 8 million patients have used Invisalign to leave their crooked, crowded, and spaced-out teeth in the past. As a result, it has become one of the most sought-after orthodontic treatments. After all, the aligners are incredibly discreet, designed for comfort, and entirely removable. Now, there is another benefit you can add to the list: the Invisalign smartphone app! Keep reading to learn how it works, a few perks, and more!
A Little Bit About the App
My Invisalign Smile is an app available for both iPhone and Android users. Developed by Align Technology (the same company responsible for creating your clear aligners), this app is designed to make treatment with Invisalign more interactive than ever before. With a quick tap, patients can find a multitude of resources, from frequently asked questions and progress trackers to helpful reminders.
The Benefits of the My Invisalign Smile App
Watch Your Smile Transform – To correct orthodontic issues like misalignment and crowding, Invisalign's aligners exert just enough pressure to gradually move your teeth into an entirely new position. Although this is essential to preserving the condition of your teeth and gums, it can be frustrating for patients who feel like they aren't seeing results. That's why one of the features on the app allows you to compile a gallery or create a timelapse video, documenting the changes from the moment you put your first aligner in to the day you're done with treatment. You can even upload the files to social media to share the progress with your friends and family!
Stay on Top of Your Treatment Plan – Removable trays, freedom from dietary restrictions, and quicker treatment timelines are some of the main reasons so many patients are drawn to Invisalign. However, it is important to remember that there are some essential rules you need to follow to continue to enjoy those benefits, like wearing your aligners for at least 22 hours a day and moving onto the next set of trays at the right time. Fortunately, the My Invisalign Smile app can help you do all of that and more with automated reminders and customized notifications!
Always be in the Know – Whether you did a bunch of research beforehand or just trusted Invisalign's incredible reputation, it's natural to have some questions once you start treatment. If one arises after hours or on the weekend, all you have to do is open the Invisalign app! From proper care and how often you should be wearing them to when you should book your next appointment, you can quickly find the answers you are looking for.
Thanks to the My Invisalign Smile app, your orthodontic treatment just got a whole lot more interactive! If you are interested in getting clear braces, don't hesitate to get in touch with your dentist to schedule your initial consultation.
About the Author
Dr. Mohammad Golparvar earned his dental doctorate at the Boston University School of Dental Medicine, and he has spent the last two decades helping patients achieve the healthy, happy smile they deserve. His exceptional skill, advanced training, and genuine passion for his craft allow him to work on even the most complex cases, using the latest technology and techniques every step of the way. If crooked, crowded, or gapped teeth are preventing you from smiling confidently, then don't hesitate to get in touch with our team via website or by phone at 603-669-4252 to learn more about Invisalign!