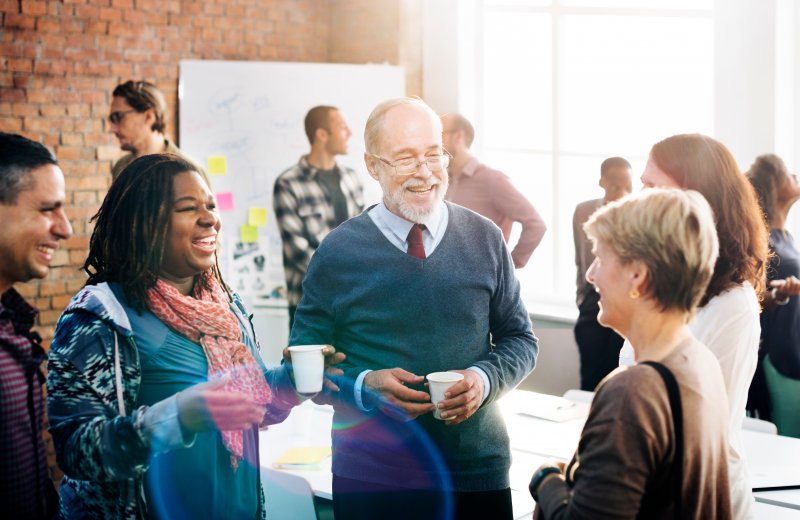 Have you recently received dentures to restore your full smile? While you can enjoy eating your favorite meals and showing off your smile again, speaking with your new pearly whites can be a challenge. However, you won't have to spend months learning how to converse fluently. Keep reading to learn three tips to make talking with dentures a much smoother process!
Tip #1: Pronunciation, Elongation, & Repetition
Although your restorations should be fitted properly in your mouth, there may be certain words that you find tough to pronounce. This is normal, however, and you'll simply need to practice repeating the sounds and phrases to get the hang of it. You might also try elongating words, that way you learn how your dentures feel and work while saying certain things. Some sounds like the letters 'F' and 'S' are usually more difficult to pronounce, so it's best to tackle these first.
Tip #2: Read to Yourself Out Loud
Once you've learned to sound out a hefty amount of words and phrases, it'll be time to put it into practice. Consider reading a book, the newspaper, or a story on social media aloud to yourself. Not only will this allow you to hear how your voice sounds with dentures, but you can also regain your confidence in your ability to speak again. You might even practice looking in the mirror to see how your mouth looks when you talk, or you can sing loudly in the shower for a bit of fun!
Tip #3: Start a Conversation with Others
One of the most important steps for talking with your dentures is to simply converse with others. Feel free to speak with friends and family, people you can trust and are comfortable with, to improve your speech. They may even identify certain words or sounds that you're struggling with and can help you practice them. In time, you'll grow more accustomed to conversing with your dentures so that they feel like your natural pearly whites.
Practice these few tips when first wearing your dentures, and you should be able to speak clearly with them in no time! And if you're still having trouble pronouncing certain words or sounds, feel free to speak with your dentist. They may be able to provide you with additional help, like denture adhesives, to help you talk with your new smile.
About the Author
Dr. Mohammad Golparvar earned his dental degree from the Boston University School of Dental Medicine and has delivered outstanding care for nearly two decades. He also frequently pursues continuing education to both travel and expand his expertise. He provides a vast selection of high-quality treatments, including dentures and dental checkups/cleanings to help restore and improve your dental health. If you'd like help talking with your dentures, visit his website or call him at 603-669-4252.