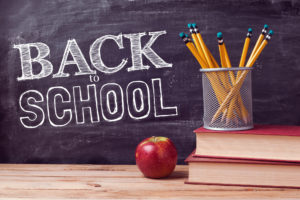 Back-to-school season is here, which means your family will be adjusting to a new schedule and you'll be on the hunt for all of the right school supplies. One thing that you might not be thinking about during these hectic times is your child's oral health. According to the Centers for Disease Control and Prevention (CDC), over 50% of adolescents between the ages of 12 and 10 have had a cavity in one or more of their permanent teeth. When left untreated, these types of oral health problems can turn into a stressful visit to the emergency dentist's office. Here are three tips and tricks on how to adjust to back-to-school season, all while looking out for your child's smile.
Prevention is Key
It's recommended that children begin visiting the dentist bi-annually (or every six months) by the time they turn one year old, or within six months of their first tooth growing in—whichever comes first. These routine checkups and cleanings with their dentist in Manchester will help ensure their smile remains protected and cavity-free.
The dentist will capture X-rays during their checkup to examine their oral structure and jawbone. If they notice any lingering cavities, they'll be able to quickly attend to them and shield their surrounding teeth from harmful bacteria build-up with dental sealants, if necessary. This will allow you to rest easy knowing your little one's pearly whites will remain protected until their next checkup and cleaning.
Establish a Good At-Home Oral Hygiene Routine
The best time to encourage a good at-home hygiene routine is during the transition from summer vacation to the school year. Your child will be open to the idea of change since they'll be in the midst of it at school and incorporating brushing twice a day (once in the morning and at night) and flossing daily is a great way to avoid any unwelcomed cavities and tooth infections.
Try Packing Tooth-Friendly School Lunches
If you're able to pack your child's lunch, consider incorporating tooth-healthy foods into it, like fibrous fresh fruits and vegetables, dairy products, and drinks that aren't packed full of sugar. Each of these offers preventive benefits, like enamel-strengthening compounds and tooth cleaning abilities. If you're not able to pack your child's lunch throughout the school year, consider purchasing tooth-friendly snacks for your child to enjoy while they're working on their homework after school!
Even though there's a lot on your plate as a parent to support your child on their journey towards academic success, by being mindful of incorporating even one of these tips into your daily schedule, you could take a huge stride towards avoiding a costly visit to the emergency dentist, all while helping your little one make the most of the school year.
About the Author
Dr. Mohammad Golparvar has over two decades of experience providing high-quality, personalized dental care to families in Manchester. He enjoys helping patients of all ages maintain healthy and stress-free smiles and uses the latest dental equipment and techniques to offer treatments that stand the test of time. To schedule a checkup and cleaning for your child, visit our website or call 603-669-4252.