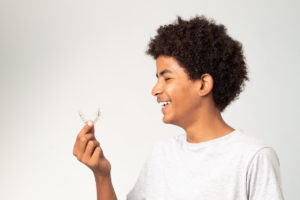 Invisalign Teen is a great solution for teenagers who have slight misalignment, gaps between teeth, or minor bite problems because it offers a discreet alternative to classic metal braces, allowing them to confidently socialize and make new friends during the school year. It's also a way to help your teen learn about responsibility, because in order for them to achieve the results they want, they'll need to commit to the process! Read on to learn three back-to-school tips that could help your teen stay on-track with not just their school work, but also their Invisalign treatment.
Pack a Travel-Sized Oral Hygiene Kit for School
Now that your teen has Invisalign aligners, they'll need to brush their teeth more frequently throughout the day. This is to keep food particles and bacteria from building up in their aligners and causing cavities or other oral health problems. It's important that they have all the tools they need to keep their smile clean and healthy throughout the day, especially around lunch time.
A hard storage case will not only keep them from losing their trays, but also provide a protective, safe place for them to store their Invisalign aligners when they take them out before eating. Then, once they've eaten, they'll need to brush and floss their teeth to prevent food from accumulating in the trays, so it's a good idea to pack a travel-sized dental floss, toothbrush and toothpaste, and mouthwash along with their case. With everything they need in their backpack, it'll be easier for them to keep on top of their oral hygiene, even when they're not at home.
Tackle Bad Breath & Dry Mouth
High school years are often filled with socializing and making a big impression on peers. The last problem your teen would want to deal with is bad breath and dry mouth as they get used to wearing their aligners. You can help curb this problem with a reusable water bottle that they can drink from throughout the day, sugar-free mints to suck on (not gum!), and reminding them to brush and floss after lunchtime.
Set Reminders So They Meet the Recommended Wear Time
After taking their aligners out before eating lunch or a snack, they may forget to put them back in. Unfortunately, this could set their treatment back, especially since it's recommended to wear their aligners for 20-22 hours each day. Try setting a reminder on their phone calendar to remind them before the end of lunch to put their aligners back in. That way, they won't fall behind in their treatment plan!
As a teen, there's a lot on your child's plate, but by supporting them during their Invisalign treatment with these three back-to-school suggestions, you can play a key role in helping them achieve an aligned and healthy smile, all while getting the most out of the school year.
About the Author
Dr. Mohammad Golparvar has two decades of experience providing compassionate and detail-oriented dental care. He enjoys getting to know everyone who visits him and treating family members of all ages from children to adults. He also uses the latest dental technology, like Invisalign clear aligners, to provide his patients with high-quality treatment options that deliver long-lasting results. For questions or to schedule an Invisalign appointment for your teen, visit our website or call 603-669-4252.