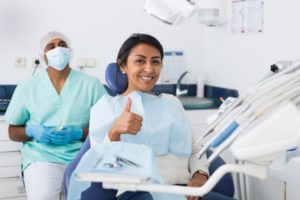 Your smile has always bothered you. It works just fine, but it doesn't look the way you want. As a result, you know you'd like to take advantage of cosmetic dentistry treatments, but you may not know what options are available to you. Keep reading to learn about the services that most dentists provide and how they can help you achieve your smile goals.
Teeth Whitening
Often, the main flaw in teeth is that they stain over time. After being exposed to coffee, red wine, tomato sauce, and other substances, teeth can absorb dark pigments and appear yellow or dull. While whitening toothpastes can make your teeth appear whiter in the short term, they often have abrasive materials that can wear down the white, hard enamel.
Professional whitening contains a bleaching agent, so the enamel stays intact, while the discoloration goes away. Instead of just a few shades, whitening with your dentist can brighten your smile by as many as 10 shades in a short period of time!
Porcelain Veneers
In many cases, teeth can have multiple imperfections, such as chips, gaps, or cosmetic cracks. Veneers are made of thin sheets of ceramic, which looks exactly like real tooth structure. These custom sheets are adhered to the front of teeth to change their size, shape, and color according to your needs and goals.
The veneers process usually takes two appointments to finish, and it involves removing a tiny bit of enamel to make room for the veneers, but they resist stains and last for a long time—up to 20 years!
Metal-Free Restorations
If your teeth require more extensive repair or covering, metal-free crowns (also called caps) can reestablish a strong, protective structure. Like veneers, these customized restorations are durable and look like real teeth, meaning that even teeth with serious flaws can regain their function and appearance, and they are usually placed in two appointments.
Cosmetic Bonding
For those who wish to enjoy most of the benefits of veneers at a lower cost, cosmetic bonding offers a more affordable alternative. With the same composite resin material as fillings, this treatment allows you to cover problematic teeth with a white putty-like substance, sculpted by the dentist for the ideal shape and look. In addition, the bonding procedure is usually completed in only one appointment.
Although some other dentists may offer more or less, these are the main cosmetic services you'll find at dental offices. You may still not know for sure which procedure is right for your smile, but that's what a consultation with your dentist is for! After taking a look at your teeth, they can recommend treatment(s) to make the transformation you're looking for.
About the Author
Since graduating from dental school more than 20 years ago, Dr. Mohammad Golparvar has continued to develop his skills through advanced training. In fact, he has traveled throughout the country to learn from experts in the dental field. At Webster Dental Associates, he offers all these treatments for patients who wish to change the appearance of their teeth. If you would like to meet with Dr. Golparvar, you may schedule an appointment by calling the office at 603-669-4252 or visiting our Contact Us page here.