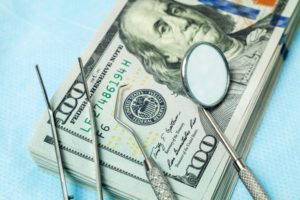 As the year comes to an end, more people are trying to maximize their dental insurance benefits by squeezing in all of the covered treatments they need before their deductible and yearly maximum restart on January 1st. The only problem is, figuring out what your insurance benefits do and don't cover can be hard, especially with varying benefits from plan-to-plan and all of the complicated jargon providers use. Read on to learn how you can figure out what treatments your dental insurance covers so you can get the most out of your plan before it renews.
How Do Dental Insurance Companies Determine Coverage?
It's important to note that each dental insurance plan differs, so the best way to learn whether yours is going to cover a specific treatment is to call them directly to ask. That being said, many plans determine coverage based on a 100-80-50 structure. This means that they cover 100 percent of the cost of preventive dentistry, like checkups and cleanings, 80 percent of basic treatments, like cavity fillings, and 50 percent of restorative and emergency treatments, like root canals.
3 Ways to Maximize Your Savings
There are several ways you can maximize your savings and minimize your out-of-pocket costs, and while it may seem tedious to navigate insurance, it's well worth the effort for your wallet.
Visiting an In-Network Provider
If you have an HMO plan, you'll need to visit a dentist that's covered under your plan. However, if you have a PPO plan, you don't necessarily have to. While this can be handy in some situations, it can save you money if you take the time to find a dentist that's in-network with your PPO plan. This means that they've negotiated discounted rates and fees with your dental insurance company, helping you save more when you stick in-network.
Taking Advantage of Preventive Dentistry Coverage
The 100-80-50 coverage structure is made to encourage patients to prevent serious oral health problems from occurring by being proactive about their dental care. When you take advantage of the two 100 percent covered checkups and cleanings a year, you can catch common oral health problems like cavities early on, minimizing your chances of costly emergency visits and invasive treatments throughout the year that your plan only covers a small portion of.
Utilizing Dual Coverage if You Have It
If you're covered under two different dental insurance plans, take advantage of the dual coverage by letting your dentist know. This allows both of your plans to split the cost of your treatment by having one plan be the primary carrier (which means they pay a larger portion of the cost) and the other being a secondary carrier (meaning they pay the smaller portion of the cost). Dual coverage doesn't mean that your benefits are doubled, but it can mean that you get additional savings.
When you take the time to coordinate with your dental insurance provider and your dentist, you can save big while getting the most out of your plan. Even though it does require some additional effort, with all of the extra savings you'll enjoy, it makes it definitely worth it.
About the Author
Dr. Mohammad Golparvar has over two decades of experience as a dentist. He loves helping his patients maintain healthy smiles and creating positive experiences each time they visit his office. He's proudly in-network with Delta Dental Premier and Delta and takes the time to listen to his patients to understand their dental concerns as well as their budgets. For questions or to schedule a checkup and cleaning before your insurance benefits renew, visit Webster Dental Associates of Manchester's website or call 603-669-4252.